Kestrel 5700 Ballistics Weather Meter with Hornady 4DOF
Introducing the all new Kestrel 5700 with Hornady 4DOF. The Kestrel with Hornady 4DOF quickly and accurately determines long range holdovers and windage corrections to get you on target with first round hits. This all-in-one unit combines real-time environmental measurements with the 4DOF ballistics calculator for a rugged and dependable, compact yet powerful long-range shooting tool. No more DOPE cards, guessing at the wind, or being unsure where your bullet will hit when you change elevation.
Kestrel 5700 Ballistics Weather Meter with Hornady 4DOF Overview
Environmental Measures
Altitude (Barometric)
Barometric Pressure
Compass Direction
Crosswind
Density Altitude
Dew Point Temperature
Headwind/Tailwind
Heat Stress Index
Relative Humidity
Station Pressure (Absolute Pressure)
Temperature
Wet Bulb Temperature (Psychrometric)
Wind Chill
Wind Speed/Air Speed
Tips For Taking Accurate Measurements
Long Range Accuracy is within your reach with the Kestrel 5700 Ballistics Weather Meter with 4DOF®.
The Kestrel 5700 is a tremendous value in full-featured ballistics calculators. This integrated weather meter and ballistics solver takes the guesswork out of long-range shooting and is an ideal companion for hunters, competitive, and recreational shooters working to stretch their reach in long-range shooting.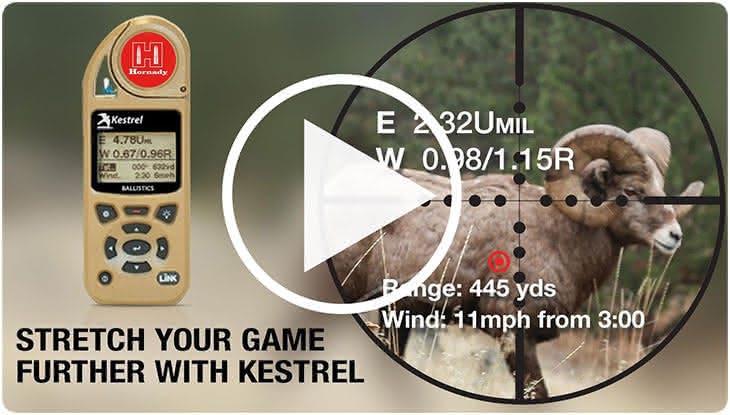 The Kestrel 5000 Series platform offers a large, high-resolution and contrast display with ease of font readability. It also includes a built-in dual color backlight, extra-strong polycarbonate lens, AA battery operation and LiNK iOS and Android wireless connectivity and app support. Like all Kestrel meters, the Kestrel 5700 is drop-tested, dust-proof, waterproof and able to withstand harsh environments without damage– so it can accompany you to the range or hunt for years to come. A range of carry pouch options makes it even easier to take your Kestrel 5700 with you.
Buy the Kestrel 5700 with LiNK and get the power of the Kestrel LiNK Ballistics app for Android or the Kestrel Link Ballistics app for iOS for free. Build and manage your gun/bullet profiles and download them to your Kestrel 5700 before you set out. At the range or match, secure your Kestrel 5700 to a tripod using the optional Kestrel Vane Mount and use the app to quickly adjust the target range and view the shooting solution and wind rose without leaving your shooting position. It's like having a meteorologist and ballistician standing next to you while you shoot.
In addition to the ballistics solver capabilities, the Kestrel 5700 is a comprehensive weather meter for measurement and logging of primary environmental conditions: wind speed and direction, temperature, humidity, heat index, pressure and altitude. Paired with the Vane Mount, the Kestrel 5700 Ballistics Weather Meter becomes a compact, easily-deployable weather station. Your data log can be transferred to a iOS/Android device wirelessly with the LiNK wireless communication option and Kestrel LiNK app, or to a Windows/Mac device with either the accessory Kestrel LiNK Dongle or waterproof USB Data Transfer Cable (Both sold separately).
Kestrels have been put to the test in some of the harshest conditions on the planet. U.S. Special Forces, combat weather teams, wildland firefighters, smoke jumpers, Mt. Everest expeditions and auto pit crews are just a few who rely on a Kestrel to provide them with the crucial environmental data they need. Watch any on-screen meteorologist during a hurricane, and you're sure to spot a Kestrel in action. With a Kestrel 5700, you can put accurate shooting solutions and environmental measurements in the palm of your hand, anywhere your adventure takes you.
---
Compare all Kestrel Ballistics Meters
Kestrel 2700
Platform
Kestrel 5700
Platform
Kestrel 5700
Elite Platform
Kestrel
2700
Kestrel
5700
Ruger Kestrel 5700
Hornady Kestrel 5700
Kestrel
5700 Elite
LiNK Enabled
LiNK Enabled

✔

✔

✔

✔

✔

G1/G7 Drag Models in Mil, TMOA, SMOA, in, cm, Clicks
G1/G7 Drag Models in Mil, TMOA, SMOA, in, cm, Clicks

✔

✔

✔

✔

✔

Corrects for Wind, Temp, & Altitude Changes
Corrects for Wind, Temp, & Altitude Changes

✔

✔

✔

✔

✔

Easy Mode
Easy Mode

✔

✔

✔

✔

✔

MV Calibration Guide
MV Calibration Guide

✔

✔

✔

✔

Gun Profile Storage
Gun Profile Storage
1 Gun
3 Guns
3 Guns
3 Guns
30 Guns
Targets
Targets
1 Target
1 Target
1 Target
1 Target
10 Targets
Aerodynamic Cross Wind Jump
Aerodynamic Cross Wind Jump

✔

✔

✔

✔

Coriolis
Coriolis

✔

✔

✔

✔

Spin Drift
Spin Drift

✔

✔

✔

✔

Muzzle Velocity - Temperature Correction
Muzzle Velocity - Temperature Correction

✔

✔

✔

✔

Moving Target Lead Calculator
Moving Target Lead Calculator

✔

✔

✔

✔

Target Range Estimator
Target Range Estimator

✔

✔

✔

✔

Target Speed Estimator
Target Speed Estimator

✔

✔

✔

✔

Ruger Rifles & Match Grade Ammo Library
Ruger Rifles & Match Grade Ammo Library

✔

Hornady 4DOF Custom Bullet File
Hornady 4DOF Custom Bullet File

✔

Axial Form Factor Calibration Guide
Axial Form Factor Calibration Guide

✔

Zero Angle
Zero Angle

✔

Range Card
Range Card

✔

Target Card
Target Card

✔

Applied Ballistics Custom Curves
Applied Ballistics Custom Curves

✔

Subsonic Range Truing (Drop Scale Factor)
Subsonic Range Truing (Drop Scale Factor)

✔

Zero Offset
Zero Offset

✔

Max Range
Max Range

875 Yards

4000 Yards

4000 Yards

3828 Yards

5500 Yards
Precision & Competitive Shooting
Shooting
Backlight - Switchable White/Red
Ballistics Calculator - Hornady 4DOF® Solver
Battery Life Indicator
Data Log Graph View
Data Logging - Adjustable Interval
Date & Time
Digital Compass
Drop-Tested to MIL-STD-810G
High Contrast, Sunlight Readable Monochrome LCD Display
Integrated Flip Open Impeller Cover
Intuitive Tactile Up/Down/Enter Keypad
LiNK Wireless Communication - When Option Selected (Bluetooth low energy)*
Multilingual Menus (English, French, Spanish, German)
Minimum/Maximum/Average Reading
Pressure Sensor
Relative Humidity Sensor
Temperature Sensor (Patented External Isolated)
Waterproof to IP67 (3'/1M for 30 minutes)
Aerodynamic Jump Correction
Axial Form Factor Calibration
Basic Ballistic Data Table
*Connect with LiNK Compatible Range Finders
Coriolis Correction
Create and store 1 Target
Create and store up to 3 Gun/Bullet Profiles
Easy Mode: Step-by-Step Set Up Guidance
G7/G1 Solver
Hornady Bullet Library
Muzzle Velocity-Temperature Sensitivity Correction
MV-Temp Table
Spin Drift Correction
Supports Mil, MOA, Clicks, in, and cm
Standard and Night Vision Preserving Backlight
Target Range Estimator
Target Lead Calculator for Moving Targets
Target Speed Estimator Tool
Zero Angle Calculation




* Applies to LiNK models only
Battery - 1 x AA
Certificate Of Conformity (Spec Sheet)
Instructions
Lanyard
Protective Drawstring Pouch
Models & SKUs:
Kestrel 5700 Hornady Ballistics Weather Meter with LiNK: 0857HORBLTAN
---